A Chronology of Energy- and Art-Related Developments
(2013 ongoing)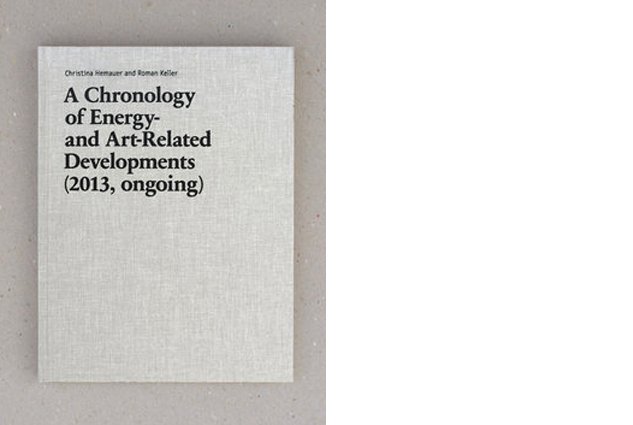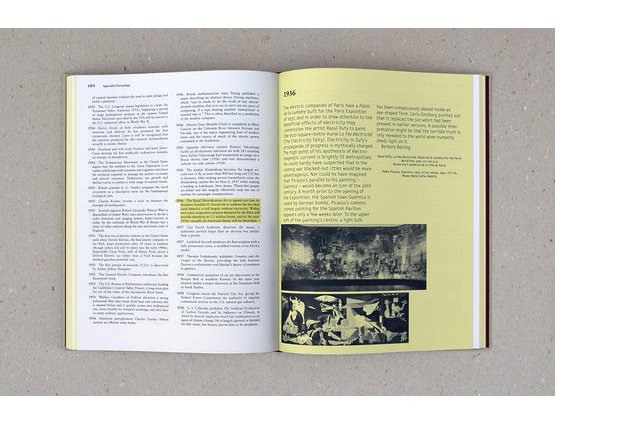 Christina Hemauer and Roman Keller maintain the thesis that throughout history culture and energy have been reciprocal entities: technological change determines cultural achievements and vice versa.
Their artists' book is based on the appendix of the six-volume Encyclopedia of Energy. Entitled «A Chronology of Energy-Related Developments», the 64-page appendix sums up historical events of relevance to energy since the existence of the planet earth. In collaboration with 32 art historians and cultural theorists, the two artists have supplemented the appendix with «art-related» entries in words and pictures.
«Accounts and reflections regarding hand axes, fire, horsepower, an electric dress from 1950s Japan, a channelled flashlight and much  more: all of these coalesce into a metaphor that highlights what culture in a narrow sense and artists in particular have to offer. Colour is added and windows are opened so that the larger picture and the close-up view converge, thereby turning our future energy prospects to good account.» Bice Curiger, Kunsthaus Zürich.