Ear Lights, Eye Sounds
Expanded Cracked Everyday Electronics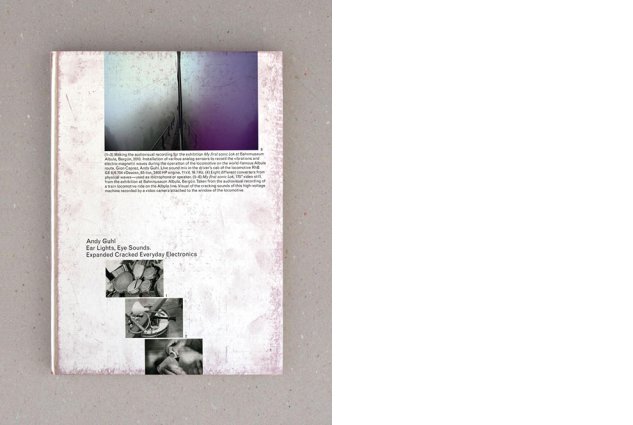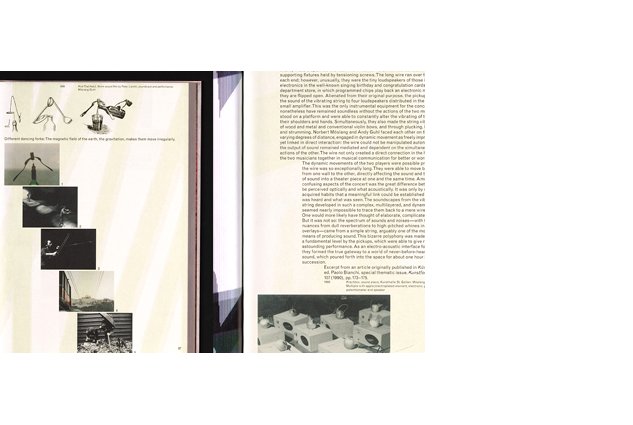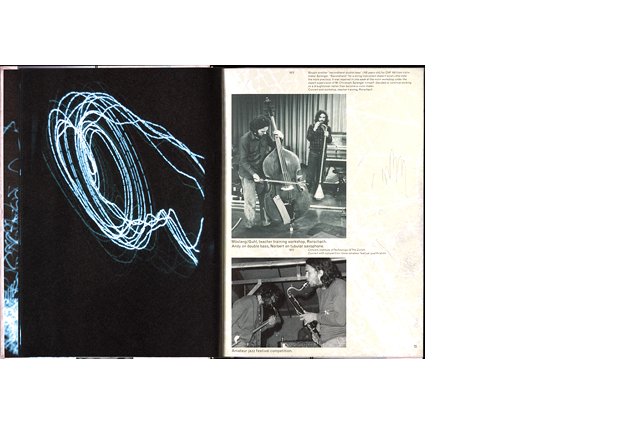 With over 100 colour reproductions of Colliding Sediments, stills from the audiovisual performance THE INSTRUMENT, as well as concerts, sketches, illustrations and explanations.
 
(1–3) Making the audiovisual recording for the exhibition My first sonic Lok at Bahnmuseum Albula, Bergün, 2013. Installation of various analog sensors to record the vibrations and electro-magnetic waves during the operation of the locomotive on the world-famous Albula route. Gion Caprez, Andy Guhl. Live sound mix in the driver's cab of the locomotive RhB GE 6/6 704 «Davos», 65-ton, 2400 HP engine, 11 kV, 16.7 Hz. (4) Eight different converters from physical waves—used as microphone or speaker. (5–6) My first sonic Lok, 170° video still, from the exhibition at Bahnmuseum Albula, Bergün.Taken from the audiovisual recording of a train locomotive ride on the Albula line. Visual of the cracking sounds of this high-voltage machine recorded by a video camera attached to the window of the locomotive.
 
(1) Do-it-yourself drum set with homemade percussion material, such as kitchen utensils, hot water bottles, curtain rods, wooden sticks, and children's toys. (2) The combination of traditional and homemade instruments and a big drum head creates a new world of sounds. (3) Detail of crimping wheel used to produce vibrations on small drum head. (4) Preparing the membrane with motors from children's toys running on 4.5 volts +- .
 
 
Contributors:
Álex Gámez, Andres Bosshard, Charlotte Hug, Christian Pauli, Cornelia Spillmann, Dr. Mark Staff Brandl, eRikm, Franziska Kohler, Gieri Battaglia, H. R. Fricker, Ish Shehrawat (Ish S), Jasch (Jan Schacher), Jason Kahn, Johannes Anders, John Corbett
Katharina Stoll-Cavelti, Konrad Bitterli, Mario Gabola, Markus Detmer, Mike Bullock, Nicolas Collins, Nora Hauswirth, Peter Hubacher, Peter Kraut, Pius Tschumi, Ralph Hug, Richard Butz, Richard Jean, Salome Schmuki, Stefanie Kasper, Timo Reuber, Yan Jun