Villa Romana Fellows 2014
Ei Arakawa, Sergei Tcherepnin, Natalie Czech, Loretta Fahrenholz, Petrit Halijaj, Alvaro Urbano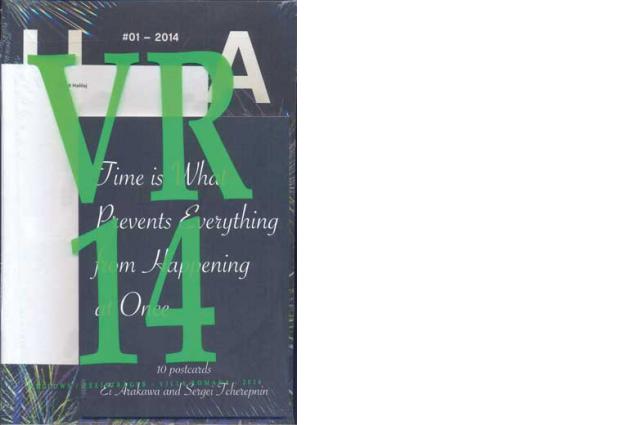 The final publication of the selected Villa Romana Fellows of 2014 – Ei Arakawa and Sergei Tcherepnin, Natalie Czech, Loretta Fahrenholz, Petrit Halijaj and Alvaro Urbano – comprises of five individual booklets, including posters and post cards that document and provide a commentary on their individual and collective work from their fellowship period in Florence.
The post card series "Time is What Prevents Everything from Happening at Once", reflects Ei Arakawa's and Sergei Tcherepnin's time at the Villa Romana. Natalie Czech translated keywords of art criticism into the language of flowers; the result is a floral lexicon of sentiments from which a 'Critic's Bouquet' can be plucked. Alvaro Urbano and Petrit Halijaj brought the art historically shaped Florentine scenery to life by means of ghost-like promenading sculptures and a canary aviary. Furthermore, Halijaj seized the opportunity of the Villa Romana Prize to initiate his own short-term residency program, "Hajde!", enabling young Kosovo-based artists the opportunity to have a two-week visit to Florence. Loretta Fahrenholz contributes four of her current film posters to the annual publication, including the cover image of the post-apocalyptic city symphony, "Ditch Plains".
The Villa Romana Prize is Germany's oldest art fellowship. Ever since 1905, it is awarded annually, usually to four artists. It includes a ten-month fellowship in the artists' house Villa Romana, a free studio, and a monthly stipend. Every year, at the end of their stay in Florence, the publications of the Villa Romana Fellows are jointly conceived by the artists.
Contributors:
Angelika Stepken, Angelika Stepken, Petrit Halijaj