Footprint 27
Conflict Mediations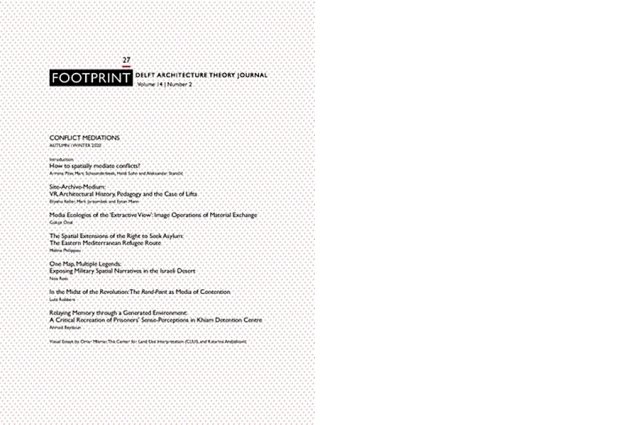 Various forms of violence and conflict continue to shape our habitats. What historically has been straightforward and even obvious two-way dependency, in recent years took more subtle and covert form due to sophisticated technological advancements in the fields of media, surveillance and armament.
Recognising the detrimental effects of these new developments on the way we experience, conceptualise and build our environments, Footprint 27 proposes artistic reflections, cross-media inquiry and counter-tactics as new powerful tools to rethink the complex relationship between conflict, space and mediation.
On one hand, the aim of this issue is to deepen and expand theoretical considerations that substantiate investigations of spatial conflicts by making them truly interdisciplinary. On the other, it seeks to empower architects and artists in their pursuit of exposing, critiquing and fighting spatial violence by reclaiming/unlocking the enormous potential of media tools.
With contributions by the editors Armina Pilav, Marc Schoonderbeek, Heidi Sohn, Aleksandar Staničić, and Eliyahu Keller, Mark Jarzombek, Eytan Mann, Gökçe Önal, Melina Philippou, Noa Roei, Lutz Robbers, Ahmad Beydoun, and visual essays by Omar Mismar, The Center for Land Use Interpretation (CLUI) and Katarina Andjelkovic.