Mute Vol. 2, no. 6
Living in a Bubble: Credit, Debt and Crisis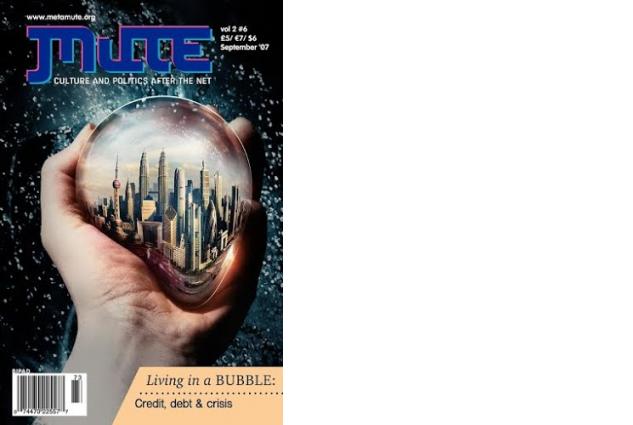 Mute Vol 2 #6 This issue we look at the cultural, political and social costs of an era of debt-backed boom now showing signs of busting. Our contributors explore the links between a global glut of financial liquidity and the capitalist self-cannibalisation that sustains it. Tracing the impact of financialised and looted social existence from the micropolitics of student debt and lifelong labour, via the reign of fictitious capital, to the geopolitics of US militarism and reactionary anti-imperialism , this issue asks us to reimagine crisis as a political question with an open outcome: Are we about to pick up the tab for the financial elite's decades long free lunch ? And if monetary collapse is a way off, is this because the social crisis and repression we already face are deepening? Whose crisis is it anyway, and if it comes , who is going to come out on top?
Articles by: Dave Beech, The Committee for Radical Diplomacy, Loren Goldner, James Heartfield, Suhail Malik, Stanley Morgan, Brett Neilson, Rob Ray, Mark Saunders and Jeff Strahl.
Poems by: Andrea Brady, William Fuller, Howard Slater, Keston Sutherland and John Wilkinson
Artwork by: Chiara Birattari & Zoe Romano, Esiri Erheriene -Essi, " "[sic] Tim Goldie and Matthew Hyland.
Contributors:
Mary Anne Francis, Jo Walsh, Lewis Sykes