Mute Vol. 3, no. 2
Well, the first thing I want to say is, politics my arse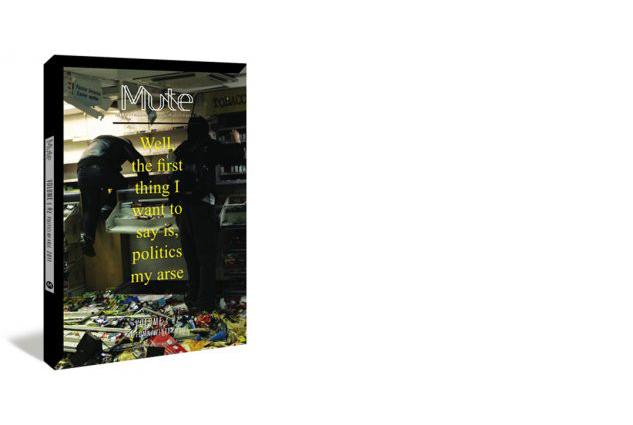 'Well, the first thing I want to say is, politics my arse' Issue 2 includes: cover art by Johnny Spencer * Alberto Toscano on logistics and anarchism * Gail Day on postmodernism at the V&A * Brian Ashton zooms in on RFID * Mark Neocleous on generalised anxiety * Benjamin Noys on spaghetti communism * Howard Slater on the August riots * Mme Tlank and Mira Mattar on motherly love, care and capital * Stefan Szczelkun on Gregory Sholette's book, Dark Matter * Anustup Basu on the Arab Spring * Sander on why China won't save capitalism.
Mute magazine provides an imaginative, experimental and exacting response to the challenges and contours of technologically-driven late capitalism. Drawing on a wide field of writers, theorists, artists, technologists, poets and political activists, the magazine offers an original and uncompromising analysis of our contemporary landscape.
Mute has developed a track record for rethinking the truisms and default logics of both dominant and oppositional cultures. From excavations of the cybernetic fantasies of '90s net culture and the euphoria of networked anti-capitalist activism, through to class and aesthetic analyses of the Creative City model and predictions of the Financial Crisis – Mute has often pioneered critical and singular responses to contemporary events.
Contributors:
Josephine Berry Slater, Sarah Taylor, Mute All Stars, Clinical Wasteman, Alberto Toscano, Brian Ashton, Mark Neocleous, Benjamin Noys, Howard Slater, Madame Tlank and Mira Mattar, Khalid Qureshi Foundation and Chelsea Ives Youth Centre, Stefan Szczelkun
Gail Day, Anustup Basu, Demetra Kotouza, Sander