wildes wiederholen
Dissidente Geschichten zwischen DDR und pOstdeutschland #1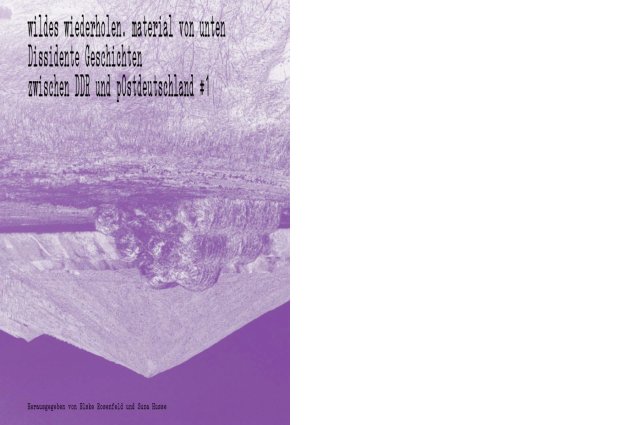 Die Erfahrungen des gemeinsamen widerständigen Lebens in der von jeder utopischen Zukunft gelösten Gegenwärtigkeit der späten DDR harren noch immer einer differenzierten Bearbeitung. Ihre Spuren sind in der Erinnerung der damals Involvierten und in zahlreichen Dokumenten und Materialien in Archiven und Sammlungen aufgehoben. Dieses Buch ist das Ergebnis eines vielstimmigen und transdisziplinären Arbeitsprozesses von Künstler*innen, Autor*innen, Forscher*innen, Kurator*innen, Archivar*innen, Aktivist*innen und weiteren Gesprächspartner*innen im Archiv der DDR-Opposition. Die dort gesammelten Materialien zeichnen ein komplexes Bild individueller und kollektiver Lebenswelten und dokumentieren (Gegen)Entwürfe ökologischer, feministischer und radikal demokratischer Bewegungen von Unten, die sich entlang des Versprechens wie des Scheiterns des Staatssozialismus ausformten.
 
wildes wiederholen geht der Aktualität dieser wenig gehörten Geschichten nach, um sie mit Begriffen und Praktiken des Politischen heute in Dialog zu setzen. Das Buch versammelt künstlerische und politische Zugänge zu Archiv und Erinnerung aus kritisch-postsozialistischen, queer*feministischen, linken, Schwarzen, postmigrantischen und intersektionalen Perspektiven. Die Positionen, aus denen heraus Geschichte erlebt, begehrt und erzählt wird – ihre Situiertheit in Körpern, Sprachen und Ökologien – sind Teil jeder Erzählung.
 
Edited by Elske Rosenfeld and Suza Husse
 
Also available in English.
Contributors:
Alex Gerbaulet + Mareike Bernien, Anna Zett, Elsa Westreicher, Elske Rosenfeld, Ernest Ah + Sabrina Saase + Lee Stevens of the Raumerweiterungshalle collective Ina Röder Sissoko + Suza Husse, Irena Kukutz, Nadia Tsulukidze, Peggy Piesche, Samirah Kenawi
Technosekte + Henrike Naumann and Katalin Cseh­Varga, Maria Josephina Bengan Making Rebecca Hernandez García Redi Koobak, Sebastian Pflugbeil, Tim Eisenlohr.