The Disoeuvre
An Argument in 4 Voices (WASLT Table); 6:27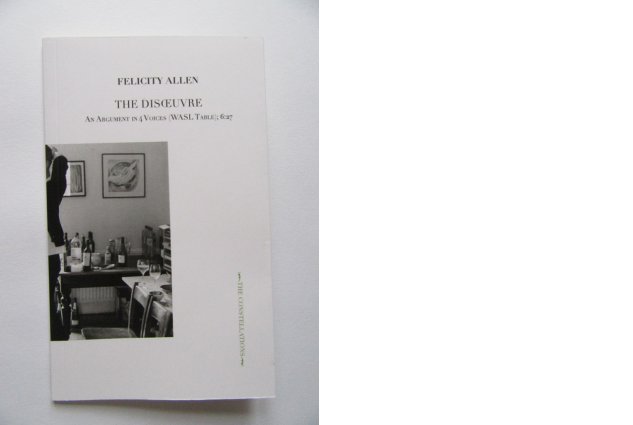 Some of us were taught to be adaptable, prepared to proxy through others the aspiration we'd been trained in; our children perhaps or our partners, our bosses, or our professors. We'd bend our thinking to accommodate the desires or inflections of others. Or take on extra jobs, maybe studying or working at home at night. Not everyone in the margins was trained this way: distinctions of gender, class, colour might result in being trained in intransigence, mirroring the unswerving convention recognised as discipline that identified the œuvre-producing white male artist
 
Felicity Allen coins the neologism 'Disœuvre' as an alternative to the conventional 'oeuvre' produced by art's heroes. Four voices (material, personal, rational, and cultural) converge to produce a Disœuvre, where the unrecognised work, its continuities of thought and commitment, is situated as coming and going.
 
Felicity Allen works with varied forms of production, often collaboratively and over time. Her film As If They Existed, made with Tom Dale. was commissioned by Turner Contemporary in 2015, as part of a residency which explored how women's work in the arts continues to shift ideas about artistic practice and how to record it. She is the editor of Education (Documents of Contemporary Art), published by MIT/Whitechapel Art Gallery in 2011. Current projects include a durational approach to The Disoeuvre and collaborations with the activist Refugee Tales and the research project People Like You.